No one was ready for the overwhelming wave of emotions evoked by the Friends: The Reunion official trailer.
Fans of the iconic sitcom Friends, got a taste of what to expect on May 27 when the reunion special airs on HBO Max.
The two-minute trailer showed just how special the bond is between the cast as they all reunited and reminisced on the show.
The opening scene looked too familiar as Jennifer Aniston joined Courteney Cox and Matt LeBlanc on their old couch for an updated trivia game with David Schwimmer, Lisa Kudrow and Matthew Perry.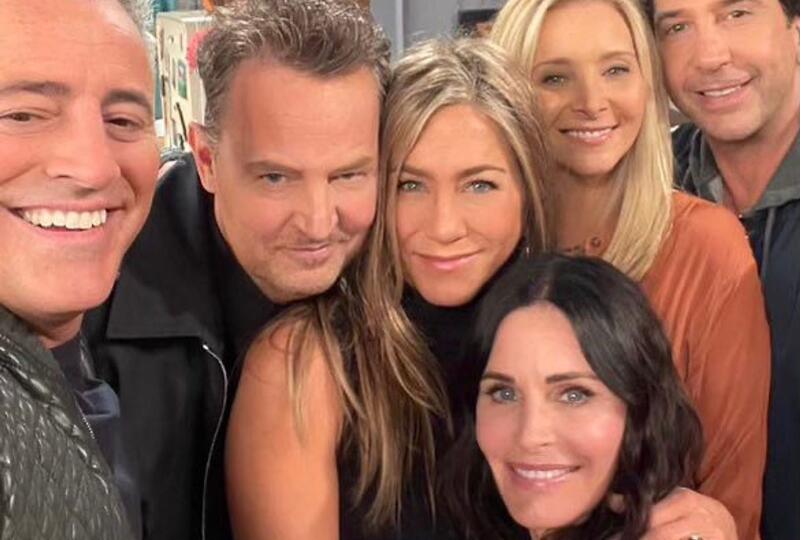 Recreating a memorable moment from the original show, Schwimmer's character, Ross Geller, stood at the trivia board to ask the gang some questions.
"Rachel wrote Ross a letter and demanded he read it before they got back together. How many pages was that letter?" he asked the group.
LeBlanc, who played Joey Tribbiani, screamed '18 pages' only for Aniston to add: 'front and back!'
Cox screamed back, 'Wait, wait do it one more time!' Which fans noted was a classic Monica moment.
Kudrow was overwhelmed upon walking onto set at the Warner Bros. lot as LeBlanc enthusiastically said: 'Here we go!'
Aniston who played Rachel Green, proved to be already emotional as she asked: 'Where's the tissue box?' as she walked into the studio.
'Does Courteney still have her lines written on the table?' LeBlanc asked as he toured the old apartment set.
While sitting on the iconic orange couch from the show's intro.' Kudrow said, "We have such a bond from this show," and that was clear throughout the trailer.
In one of many tear jerking moments, Aniston leaned down to comfort Perry as he stuttered through his words and said: 'I'm going to cry now.'
In a happier clip James Corden can be seen interviewing the cast and asks the famous question, 'Were Ross and Rachel on a break?' to which Cox and Aniston shout 'yes!'
View this post on Instagram
LeBlanc meantime, grabbed his cup of coffee and muttered 'bulls***' under his breath while David laughed.
A number of other cast members are set to make an appearance including Maggie Wheeler, who played Janice Litman-Goralnik. She can be seen in the trailer uttering her famous phrase, 'Oh my God.'
The iconic sitcom ran for 10 seasons from 1994 to 2004, and was created by David Crane and Marta Kauffman, who executive produced the series with Kevin Bright through Bright/Kauffman/Crane Productions in association with Warner Bros. Television.
It was reported recently that the reunion special was filmed over three days, with a live audience participating in the reunion.
Fans of the show cannot wait to watch the reunion special.
The HBO Max special will premier on May 27.