Maintaining a healthy diet over the festive season can be a little hard.
Between the festive parties and family gatherings, the Christmas holidays make it hard to stay healthy.
In an effort to keep the nation in good shape these holidays, Pharma Dynamics has developed more than 30 braai recipes in partnership with the Heart and Stroke Foundation SA, as part of the Cooking from the Heart cookbook series, that'll keep festive season calories in check.
Nicole Jennings, spokesperson for Pharma Dynamics said the festive season can be a challenging time, especially for those who worked hard for their summer bodies and want to keep them.
"The key is to eat mindfully over the holidays. If you're trying to maintain your weight, there are a few simple strategies you can follow," said Jennings.
1. Fill up on vegetables first. The more colourful your plate, the healthier.
2. Take a break between bites so your body has time to process the food.
3. Wait at least 20 – 30 minutes before you have dessert. This gives your body time to figure out whether you're still hungry. Listen to your body and stop when you're full.
4. Focus on having a good time with the people you're with than just the food.
5. Be aware of the amount of food you eat and adjust it based on its nutritional value and the goals of your eating plan by exercising portion control.
"Finally, don't feel bad about treating yourself to some of your favourite festive season treats, but remember to moderate your intake. If you overindulge during one or two meals, don't beat yourself up over it. Just get back on track the next day," she explained.
Here are some of the healthy braai recipes from Cooking from the Heart's special braai edition that you can try over the holidays:
Veggie skewers
These skewers are delicious when braaied over the coals.
125 g button mushrooms, halved
3 baby marrows, thickly sliced
200 g baby tomatoes
1 green, yellow or red pepper, seeded and cut into large cubes
15 – 20 bay or fresh lemon or lime leaves (optional)
8 – 10 metal skewers or wooden kebab sticks, soaked in water for 30 minutes
¼ cup (60 ml) olive or canola oil
3 tbsp (45 ml) lemon juice
1 tbsp (15 ml) finely grated lemon rind
2 tsp (10 ml) each chopped fresh thyme, origanum and parsley
1 clove of garlic, crushed black pepper to taste
½ tsp (2,5 ml) salt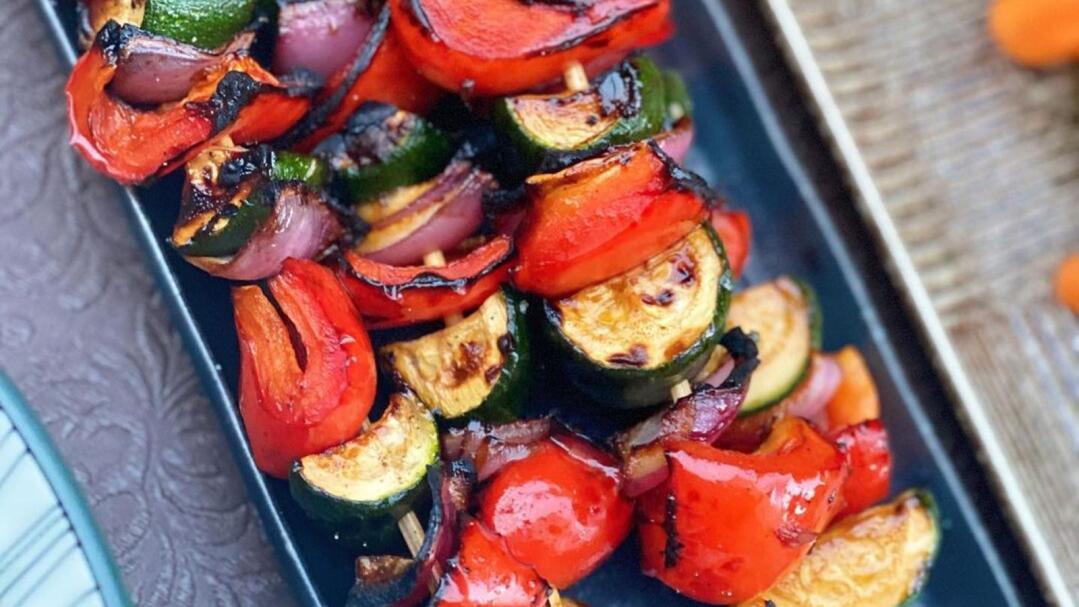 Method:
1. Place mushrooms in a shallow dish and cover with boiling water. Soak for 8 – 10 minutes to prevent the mushrooms from breaking apart when skewered. Drain well and pat dry.
2. Thread mushrooms and veggies onto skewers or kebabs sticks, alternating the different veggies for a colourful end result. Add 1 – 2 bay, lemon or lime leaves in between veggies.
3. Mix oil, lemon juice and rind, herbs and garlic together and season with pepper.
4. Brush oil mixture onto skewers on all sides and marinate for 30 minutes. Season skewers with salt.
5. Grill over medium to low coals or until the veggies are just cooked, but not too soft. Brush with more of the marinade, while braaiing, if necessary.
6. The kebabs can be served with the Pea & yoghurt dip or Cottage cheese dip on pages 48 and 49. Serve with a protein-rich vegetarian dish for a balanced meal.
Tips
1. Add pineapple to the skewers for a sweet flavour – it is delicious with pork or chicken.
2. A pinch of cumin or paprika or a chopped chilli can be added to the oil mixture if preferred.
3. For a different flavour add 1 tbsp (15 ml) finely grated fresh ginger or add 1 tsp (5 ml) mild mustard to the oil mixture.
Mealie meal & corn bake
3 cups (750 ml) coarse mealie meal
2 cups (500 ml) water
1½ cups (375 ml) low-fat milk
½ tsp (2,5 ml) salt
¼ cup (60 ml) olive or canola oil
1 x 410 g tin cream style sweetcorn
1 small onion, cut into thin wedges
3 tbsp (45 ml) chopped fresh parsley
¼ cup (60 ml) coarsely grated cheddar cheese
1 corn on the cob, kernels cut from the cob or ½ cup (125 ml) frozen whole kernel corn, rinsed
Method:
1. Preheat oven to 180 °C. Place the mealie meal, water, milk, salt, oil and sweetcorn in a large mixing bowl. Stir well so that no dry meal is visible.
2. Lightly grease a 20 x 27 cm oven dish with oil and spoon mealie meal mixture into dish.
3. Arrange onion wedges on mealie meal. Mix parsley, cheese and corn and sprinkle evenly over onions.
4. Bake for 1 hour or until the mealie meal is cooked through. Serve hot.
Tips:
1. Serve with Barbecue sauce on page 45.
2. Bake the mealie meal mixture without the onion and cheese mixture until cooked. Mix 1 x 410g tin onion and tomato mix with the parsley and onion wedges. Spoon onto cooked mealie meal bake, sprinkle with cheese and corn and bake for another 10 – 15 minutes or until the cheese has melted and the tomato layer is heated through. Serve immediately.
Spicy marinade
This marinade is delicious with chicken, beef, lamb or fish and ideal for homemade sosaties.
¼ cup (60 ml) olive or canola oil
1 tbsp (15 ml) mild curry powder or to taste
½ tsp (2,5 ml) turmeric
1 tsp (5 ml) ground cumin
1 tsp (5 ml) coriander seeds, crushed (see tips)
3 tbsp (45 ml) apple juice or Rooibos tea
2 tbsp (30 ml) lemon juice
1 tsp (5 ml) finely grated lemon rind
2 tbsp (30 ml) finely grated fresh ginger or 1 tsp (5 ml) ground ginger black pepper to taste
Method:
1. Mix the oil with the rest of the ingredients together in a jug. Remember to only season meat once ready to braai, with no more than 1½ tsp (7,5 ml) salt per kilogram of meat.
2. Place the meat, fish or chicken in a bowl and pour the marinade over. Mix until well coated.
3. Allow to marinate for 1-2 hours or overnight in the fridge. Fish should not marinate for more than 30 minutes.
4. Braai over medium coals until cooked to your preference. Cooking time will depend on the type of meat used. Brush with any extra marinade while braaiing.
5. Any unused marinade can be heated and served as a sauce. It is delicious served with brown rice, pap or even potatoes in the skin and the meat. Make double the marinade and refrigerate in a sterilised jar for up to two weeks.
Tips
1. Crush the coriander seeds with a rolling pin to release more flavour.
2. The strength of the curry powder will determine the spiciness of this marinade. Or add a finely chopped chilli for an even spicier version.
3. Tandoori: add ½ tsp (2,5 ml) paprika to half the marinade and stir this mixture into 1 cup (250 ml) low-fat plain yoghurt. Marinate lamb or chicken in this mixture overnight and brush over the meat while braaiing.
4. Sosaties: thread 1 kg of marinated meat onto kebab sticks. Try beef rump, sirloin or chicken fillets. Add onion, mushrooms, peppers, pineapple and fresh lemon or bay leaves for colour and flavour. Braai to your preference.
A picture containing table, cup, plate, coffee
Description automatically generated
Colourful slaw with ginger peanuts
Dressing
¼ cup (60 ml) olive or canola oil
3 tbsp (45 ml) red grape or apple cider vinegar
2 tbsp (30 ml) soy sauce
4 tsp (20 ml) finely grated fresh ginger
1 small red chilli, seeded and finely chopped, or to taste (optional)
3 tbsp (45 ml) chopped fresh coriander or parsley
¼ cup (60 ml) finely chopped unsalted peanuts lemon juice and black pepper to taste
Salad
500 ml (2 cups) each shredded white and red cabbage (or more white)
1 large spinach leaf, shredded
2 carrots, peeled and coarsely grated
¼ cucumber, quartered and thinly sliced
1 medium pineapple, quartered and thinly sliced
1 celery stalk with the leaves, thinly sliced
½ red or green pepper, seeded, quartered and thinly sliced
Method:
1. Dressing: Stir all the ingredients together in a mixing bowl.
2. Salad: Mix all the slaw ingredients together in a large bowl. Pour the dressing over and toss well. Allow salad to stand for 10 – 15 minutes before serving it. This will allow the salad to marinate.
3. Serve slaw as a side dish at a braai.
Tips
1. This dressing can be used as a marinade for fish, chicken, pork or veggies.
2. Add toasted coconut to the dressing instead of the peanuts.
3. Serve with steak or leftover braaied chicken in whole-wheat rolls or pitas.
Chocolate fondue
1 cup (250 ml) low-fat milk
½ x 80 g good quality dark chocolate, broken into pieces
2 tsp (10 ml) sugar
1 tbsp (15 ml) cornflour
1 tbsp (15 ml) cocoa powder
¼ tsp (1,2 ml) ground cinnamon or more to taste
1 tsp (5 ml) vanilla essence
2 small fruit skewers per person, made with seasonal fruit, like apple, pear, papaya, citrus, banana or strawberries
12 – 18 marshmallows, toasted over the coals, if preferred
12 – 18 tennis or Marie biscuits to dip
Method:
1. Place milk, chocolate and sugar in a small pot. Heat over a low heat, while stirring all the time, to melt the chocolate and dissolve the sugar.
2. Mix cornflour, cocoa and cinnamon with 2 tbsp (30 ml) water to form a smooth paste without lumps.
3. Add some of the warm milk mixture to the paste and stir well. Stir back into the milk mixture in the pot.
4. Stir continuously over a medium heat for 8 – 10 minutes or until slightly thickened. Remove from the heat and stir in the vanilla. Spoon into a warm bowl.
5.Dip fruit or some of the other suggested ingredients in the warm chocolate sauce.
Tips:
1.The sauce will thicken as it cools down. Just stir in a tablespoon of boiling water to thin it down again.
2. The chocolate sauce can also be served with ice cream. Only use 2 tsp (10 ml) cornflour and prepare as above. The recipe will then serve 8 – 10.