Supermarkets in parts of KwaZulu Natal and Gauteng have closed due to looting and riots that started earlier in the week.
People in parts of KwaZulu Natal and Gauteng where left unable to do their groceries as easily as they normally would because a number of supermarkets had to close due to looting and riots in both the provinces.
Since the start of the week riots and looting erupted across areas in these provinces, leaving many with limited access to food and petrol.
Access to the few supermarkets that are open can take the whole day as queues are terribly long.
If you want to make use of the food items you already have in your pantry or fridge or want to try some new recipes, we have curated a few simple ones that will come in handy.
This creamy recipe tastes like a lot of ingredients went into but all you need are 5 ingredients to whip it up.
Ingredients:
3 cups cooked macaroni
1 can tuna, drained
1 can condensed cream of chicken soup
1 cup shredded Cheddar cheese
1 ½ cups French fried onions
Method:
Step 1
Preheat oven to 350 degrees F (175 degrees C).
Step 2
In a 9×13-inch baking dish, combine the macaroni, tuna, and soup. Mix well, and then top with cheese.
Step 3
Bake at 350 degrees F (175 degrees C) for about 25 minutes, or until bubbly. Sprinkle with fried onions, and bake for another 5 minutes. Serve hot.
2. Ground beef curly Noodle
Nothing says 'easy recipe' like noodles but adding some ground beef elevates the simple dish.
Ingredients:
1 pound ground beef
1 package flavoured ramen noodles
1 can diced tomatoes
1 can whole kernel corn
Method:
Step 1
Heat a large skillet over medium-high heat. Crumble in the ground beef, and cook until no longer pink, stirring frequently. Drain off grease.
Step 2
Stir in the flavour packet from the noodles, tomatoes, and corn (with their juices). Break up the noodles slightly, and add them to the skillet. Bring to a boil, then reduce heat to low, cover, and simmer for 10 minutes, or until noodles are tender. Stir occasionally to break up any clumps of noodles.
3. 5-Ingredient BBQ Chicken-Stuffed Sweet Potatoes
This delicious recipe will help you enjoy your sweet potatoes in a more exciting way and will help you finish some leftover chicken.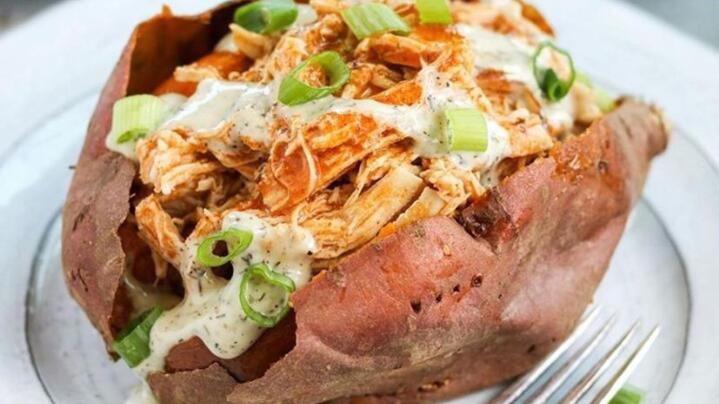 Ingredients:
1 large sweet potato
1 tablespoon olive oil
1 pinch salt
1 rotisserie chicken breast
1 cup red cabbage (100 g), shredded
⅓ cup barbecue sauce (85 g), plus more for serving
2 tablespoons green onions, thinly sliced
Method:
Preheat the oven to 425°F (220°C). Line a small baking sheet with parchment paper.
Using a sharp knife, carve out one of the breasts from the rotisserie chicken. If the chicken is particularly small, use both breasts. Chop the chicken breast into very small pieces and set aside.
Use a fork to poke holes all over the sweet potato. Transfer the sweet potato to the prepared baking sheet.
Bake for 40-50 minutes, until the sweet potato, is tender when pierced with a paring knife or skewer.
Add the cabbage to a medium skillet over medium heat. Add the barbecue sauce and sauté until the cabbage starts to soften for about 3 minutes.
Add the chopped chicken and stir just to incorporate. Remove the pan from the heat.
Once the sweet potato is cool enough to handle, slice it in half lengthwise and scoop out the flesh with a spoon until a ¼-inch (6 mm) layer remains.
Fill the sweet potato skins with the chicken and cabbage filling, drizzle with barbecue sauce, and top with the sliced green onions.
4. 'Garlic bread' potatoes
Due to the bread shortages, you might be missing garlic bread but while you wait for things to go back to normal you can try some cheesy 'garlic bread' potatoes. This is a simple take on garlic bread that does not require bread at all.
Ingredients:
Washed Potatoes
80g butter, melted
2 garlic cloves, crushed
2 tbsp chopped fresh continental parsley leaves
8 cheddar slices
Smoked paprika, to sprinkle
Method:
Preheat oven to 200C/180C fan-forced. Line a large baking tray with baking paper. Cut across the base of each potato slightly so they sit flat on the chopping board. Make thin, evenly spaced cuts crossways at 4-5mm intervals, about two-thirds the way through each potato. (Make sure you don't cut all the way through.) Place on the prepared tray.
Combine the butter, garlic and parsley in a small bowl. Season well. Brush the potatoes with a little of the butter mixture. Roast for 1 hour or until the potatoes are tender.
Set aside for 10 minutes to cool slightly.
Meanwhile, cut each cheddar slice into 9 small squares (you need about 65 squares).
Trim 1 end of 1 of the potatoes, about 3cm from the end. Repeat with another potato and join the 2 cut sides together. Trim the other end of 1 of these potatoes and repeat trimming to join all potatoes to make 1 long log. Open each cut a little and place a square of cheddar inside. Brush the top with the remaining butter mixture. Sprinkle with paprika. Bake for 15-20 minutes or until melted and golden. Carefully transfer the potato log to a long, narrow serving platter to serve.
5. Chicken feta pasta
Similar to the popular baked feta pasta this pan version can be whipped up easily with only a number of ingredients needed. A good thing about this recipe is that you can save the leftovers to use later on.
Ingredients:
2 tablespoons extra-virgin olive oil
1 1/2 pounds boneless skinless breasts split in half
1 teaspoon kosher salt divided
1/4 teaspoon freshly ground black pepper
2 cans diced tomatoes with basil, garlic, and oregano
2 cups water
1 pound whole-wheat fettuccini pasta or substitute another long, straight pasta such as spaghetti
4 ounces reduced-fat feta cheese divided
Finely chopped fresh basil
Method:
In a large pot or Dutch oven with a lid, heat the olive oil over high for 1 minute, then add the chicken breast halves. Sprinkle with 1/2 teaspoon salt and black pepper. Cook the chicken on one side for 8 minutes, moving it around in the pan a little to prevent sticking, but not too much so that a nice crust will form. Lower the heat as needed if the chicken seems to be cooking too quickly. Flip, sprinkle with the remaining 1/2 teaspoon salt, then cook for 5 additional minutes, until the chicken is cooked through.
Add the diced tomatoes and water. Stir in the pasta and cook, uncovered, for 5 minutes. Cover and let cook an additional 10 minutes.
Remove the lid, stir, then add three-quarters of the feta. Stir once more, then let cook uncovered for 5 additional minutes. Serve warm, sprinkled with the remaining feta cheese and fresh basil.
6. Buddy's flapjack biscuits
Just because you might have limited food stock doesn't mean you can't enjoy some biscuits. Jamie Oliver's recipe for Buddy's flapjack biscuits is easy to make and only requires ingredients you probably have in your home already.
Ingredients:
100 g unsalted butter , (at room temperature)
100 g mixed dried fruit & nuts
100 g porridge oats
100 g self-raising flour
100 g golden syrup
Method:
Preheat the oven to 180ºC/350ºF/gas 4.
Line a deep 20cm square baking tin with greaseproof paper and rub with olive oil.
Pulse the butter, dried fruit and nuts, oats and flour in a food processor until the mix comes together and away from the sides, then pulse in the syrup until fully combined.
Transfer to the lined tin, flattening to the edges. Bake for 15 to 20 minutes, or until golden.
Remove from the oven, slice into 16 squares ready to cut, and leave to cool in the tin for 5 minutes.
Use the paper to lift out onto a wire rack, and leave to cool completely. Simple, easy, delicious – spread the word!