Even though some people believe that the best way to cure a hangover is to keep drinking, that is probably not a good solution.
There is nothing worse than waking up with that all too familiar nauseous feeling, where your body feels as if it will reject anything you attempt to eat, after a night out.
With the festive season in full swing, this feeling will come a bit more frequently thanks to the end of year Christmas parties, nights out with friends, and family get togethers. And even though some people believe that the best way to cure a hangover is to keep drinking, that is probably not a good solution.
Luckily, there are certain foods that you can eat both before and after drinking that will help your body recover, relieving that sickly feeling.
Online drinks retailer, The Bottle Club has revealed which foods you should be eating to help cure, and even avoid, those inevitable hangovers.
Avocado toast
Avocado is full of potassium that will usually need replenishing after a night out drinking. Avocados will help boost energy and are full of nutrients that help keep a healthy digestive system – you may just want to pass on too many chilli seeds whilst your stomach recovers from the night before. Toast is also always a safe option for a hangover and potentially sensitive belly.
Ingredients:
1 avocado peeled and seeded
2 slices whole-grain bread (or bread of your choice)
2 tablespoons chopped cilantro
juice of 1/2 lime
1/2 teaspoon red pepper flakes (optional)
salt & pepper to taste
Method:
In a small bowl combine and mash the avocado, cilantro, lime, and salt + pepper to taste.
The toast 2 slices of whole grain in a toaster until golden and crispy.
Spread half of the mixture on each slice of toasted bread.
A bagel with peanut butter
Most types of bread are a good go-to for a hangover. A bagel is a great source of carbohydrates that are needed to boost energy levels, as well as protein that helps replenish amino acids lost whilst drinking. Some may opt for a simple buttered bagel but if you are going for a topping and avocado isn't your thing, then natural peanut butter may be the way to go. It is a well-known way to help a hangover – why?
Your magnesium levels can deplete quickly with excessive alcohol consumption. Nuts are a great source of magnesium and, though it should be eaten in moderation, peanut butter is quite high in calories so can give you the boost in energy we feel we so desperately need during a hangover.
Ingredients:
1 whole wheat mini bagel
1 tablespoon natural creamy peanut butter
Method:
Toast bagel.
Spread peanut butter on bagel halves
An egg wrap
Eggs are one of the best sources of nutrients you need to replenish to keep your gut happy and healthy after a night of heavy drinking. They are rich in cysteine which is an amino acid that our bodies use to help produce antioxidants which in turn help ease the symptoms of hangovers.
Eggs also contain high levels of protein needed for energy, whilst being low in calories. You do want to make sure you eat a good amount of calories to get over a hangover, but eggs are a great remedy for those wanting to avoid a high level of carbs.
Ingredients:
Two eggs
Lettuce leaves
Diced pepper
Optional fillings: turkey, avocado, cheese, hummus, etc.
Method:
Heat a small pan over medium heat. Grease with butter or oil.
In a bowl, crack one egg and mix well with a fork.
Pour into a hot pan and tilt pan to spread egg into a large circle on the bottom of the pan.
Let cook 30 seconds
Carefully flip with a large spatula and let cook another 30 seconds.
Remove from pan and repeat with as many eggs as desired.
Let egg wraps cool slightly (or fully), top as desired with fillings, roll and serve warm or cold.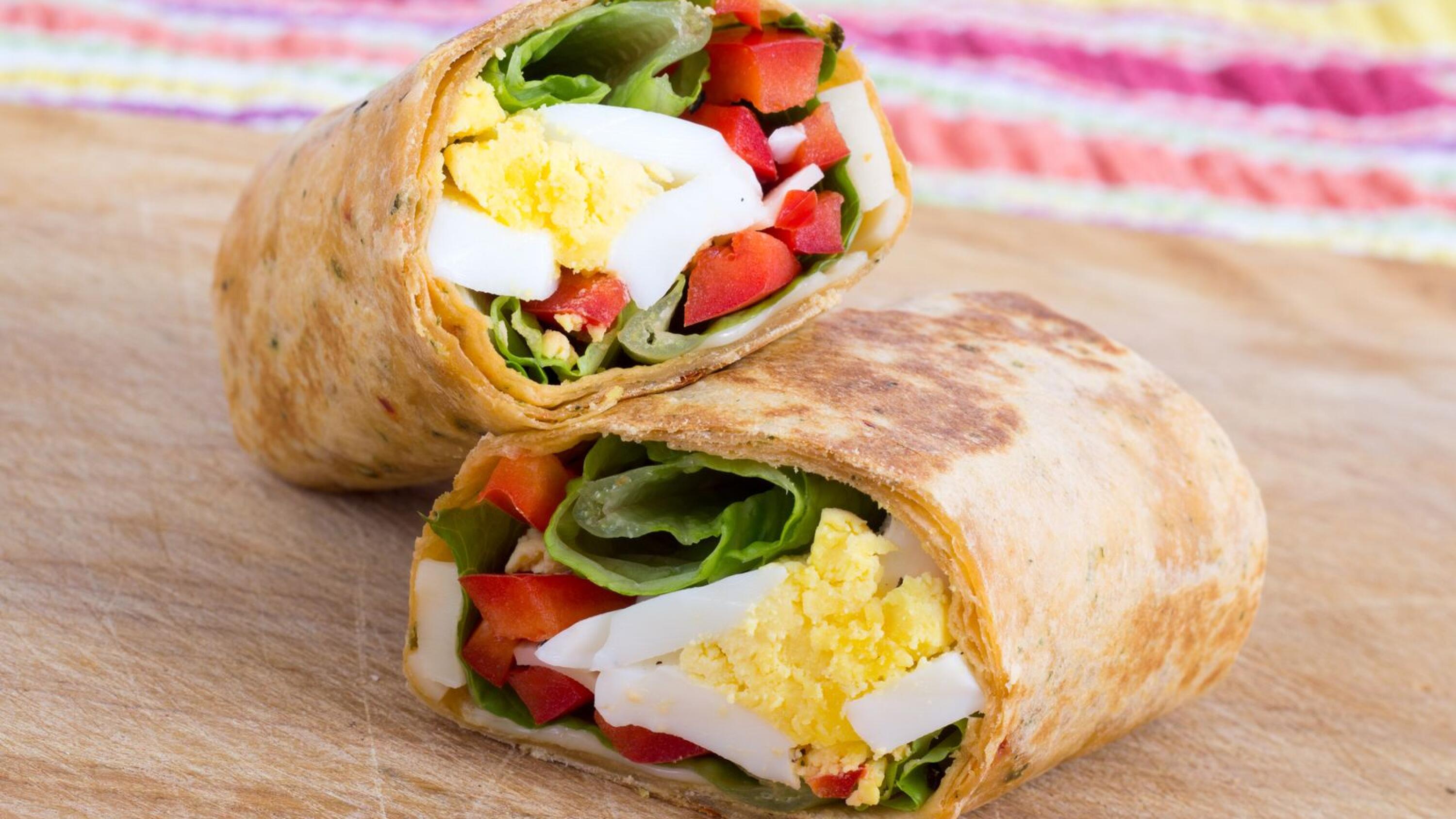 Banana oat pancakes
Oats may be one of the best foods to help a hangover – they are full of fibre and protein which will help ease your hangover symptoms. Oat pancakes are a great and pretty simple hangover treat to make yourself.
If you have honey in, this would make for an especially good topping to help cure a hangover as it contains nutrients that essentially neutralise the presence of alcohol in your system thanks to its high level of fructose. Honey will also help heal your digestion if you find your stomach is worse for wear after a night of supporting the squad.
Ingredients:
130 grams (1 ½) cups old-fashioned rolled oats, divided
2 very ripe large bananas
230 ml (1 cup) milk, regular or non-dairy
2 large eggs
2 teaspoons baking powder
1 teaspoon vanilla extract
1/2 teaspoon ground cinnamon
1/4 teaspoon kosher salt
4 teaspoons unsalted butter or vegetable oil, divided
Topping:
Sliced banana
Maple syrup or honey
Method:
First, grind the oats into flour then place 1 cup of the old-fashioned rolled oats in a blender or food processor fitted with the blade attachment. Blend until well-ground and flour-like, taking around 1 minute.
Then add the bananas and puree. Break 2 large bananas in half and add to ground oats. Process until mostly smooth.
Blend in the remaining ingredients including the 64 grams oats, 230 ml milk, 2 large eggs, 2 teaspoons baking powder, 1 teaspoon vanilla extract, 1/2 teaspoon ground cinnamon, and 1/4 teaspoon kosher salt.
Once combined, let the batter rest whilst the pan heats.
Add 1 teaspoon of the unsalted butter or vegetable oil to the pan and swirl to coat. Then drop the batter into the pan in 1/4-cup portions, cooking 3 at a time. Reduce the heat to medium and cook until bubbles appear on the surface, the edges begin to look dry, and the bottoms are golden brown.
Flip the pancakes and cook until the second side is golden-brown, then transfer to a warm oven or plate.
Top with bananas or syrup.
Jacket sweet potato
Sweet potato is great for both a hangover and also before you start drinking. They are full of potassium and complex carbohydrates that contain molecules that take longer to break down than many other foods – meaning they can soak up the alcohol and leave you feeling fresher in the morning. Add your favourite topping and your good to go for the night.
Ingredients:
4 sweet potatoes, scrubbed clean
4 tbsp. butter
Kosher salt
Freshly ground black pepper
Diced avocado and tomatoes (optional)
Method:
Preheat oven to 220 degrees. On a baking sheet lined with aluminum foil, prick your sweet potatoes all over with a fork.
Then cook until tender, usually taking around 45 to 50 minutes.
Let cool, then split the tops open with a knife and top with a pat of butter.
Season with salt and pepper and any other additional toppings before serving.
A good tip to help avoid getting a hangover is to grab a bag of peanuts before your big night out. Nuts are full of magnesium, depleted in alcohol consumption, and can help with your hangover when the kitchen feels too far away.