Winter is the best time to make a few changes around the house and make it a little more cosy and comfortable.
With the chilly months creeping in, you will be spending more time indoors so it has to be warm so that your time in the house is not unbearable.
From turning your television into a fireplace to conveniently placing slippers at your door to avoid walking on the chilly floor barefoot, there are a number of simple ways you can cosy up your home.
String lights
Apart from adding a bohemian vibe to a room, string lights can be easily draped anywhere around the home to bring a warm feel to the space.
You can also choose between LED fairy lights which will shine brighter in cold weather or a string of globes if fairy lights are too whimsical for you.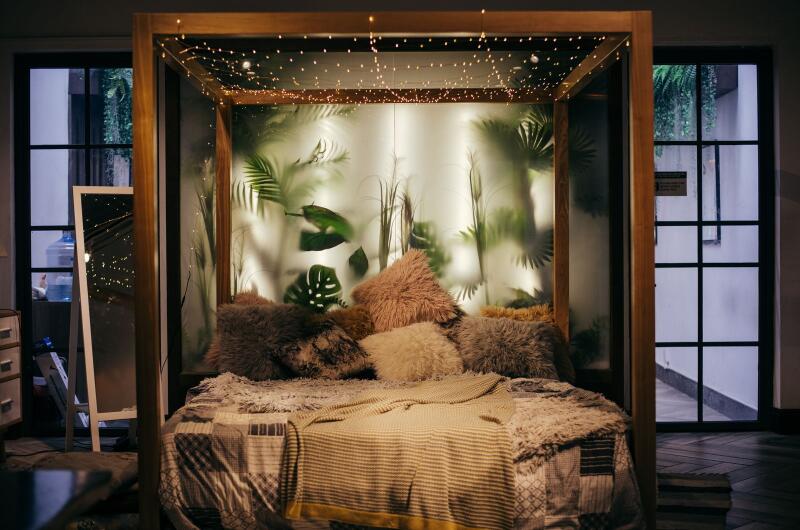 Keep slippers by the door
Nothing says cosy like a nice pair of slippers to keep your feet snug.
To give your house an extra cosy feel you can keep a pair of slippers by your entrance doors to change into as soon as you walk into the house. This way you will be comfortable and your feet will be warm from the moment you step into the house.
It will also prevent you from walking into the house with muddy shoes on rainy days.
Get more cushions and throws
Winter creates the perfect excuse to go all out and get those big furry cushions you have been eyeing on Pinterest.
Throwing them on your couch or bed will make your space a little more cosy. Throws or blankets are the same and will ensure that you are never cold when lounging around the house.
Turn your tv into a fireplace
Some homes do not come fitted with a fireplace and it can be expensive to get one built. An easy way to get around this is by turning your television into a fireplace. It won't heat up your home like a real fire would but it will give a cosy vibe into the home.
To try this out you, will need a TV that can connect to the internet and then search through the hundreds of free fireplace videos available on YouTube. Once that is done you can press play and enjoy some hot chocolate in font of your fireplace.
Add some texture
Adding texture around the house like rugs, blankets, window treatments and textured pillows or covers will definitely make your house a little more cosy.
This will again give you an excuse to splurge a little and get a cute furry rug to compliment your cushions.
Put your memories on display
Technically pictures will not make your home warmer but looking at some pleasant memories will warm up your heart for sure.
The gloomy days will go by quickly when you have have a wall full of pictures to warm up and soften your space.