Halloween is around the corner and if you want to decorate your home this year, take this as your sign to do it.
From whimsical witchcore decorations to festive wreaths, you can carry your modern style into your haunting home aesthetic this season.
Getting started might be a little difficult if you are not used to decorating for Halloween but the team of interior experts at WeThrift have scoured Pinterest to find the ultimate trends for this spooky season, which will give you some inspiration to create your own home masterpiece.
Floating Hats
Instantly add some witchery to your space with a collection of floating witch hats. This is a great way to add some magic to your home if you're hosting your own Halloween party.
All you have to do is purchase inexpensive traditional black witch hats, tie some string onto them and using removable tape, attach them to the ceiling in your home, or outside on your porch, or you can even hang them from a tree for trick-or-treaters to enjoy.
For an extra touch of spookiness, pick up some cheap battery operated lights, and place them inside of the hats for a magical effect once it's dark outside.
Witchcore
Witchcore is the aesthetic that draws inspiration from aspects of witchcraft and relies heavily on bringing nature into your home. Halloween is the perfect time to embrace the trend, as it provides plenty of inspiration for making your home more 'spooktacular', mixing witch themes and dark colours with nature-inspired furniture and accessories.
Creating the look is really fun, easy to do and can be achieved by displaying dried herbs and flowers, potted plants, crystals, potion bottles, spell books, skulls or even crystal balls. Over the last year, searches for the interior trend have increased by 203% on Pinterest, proving Witchcore will be a hot feature in homes this Halloween.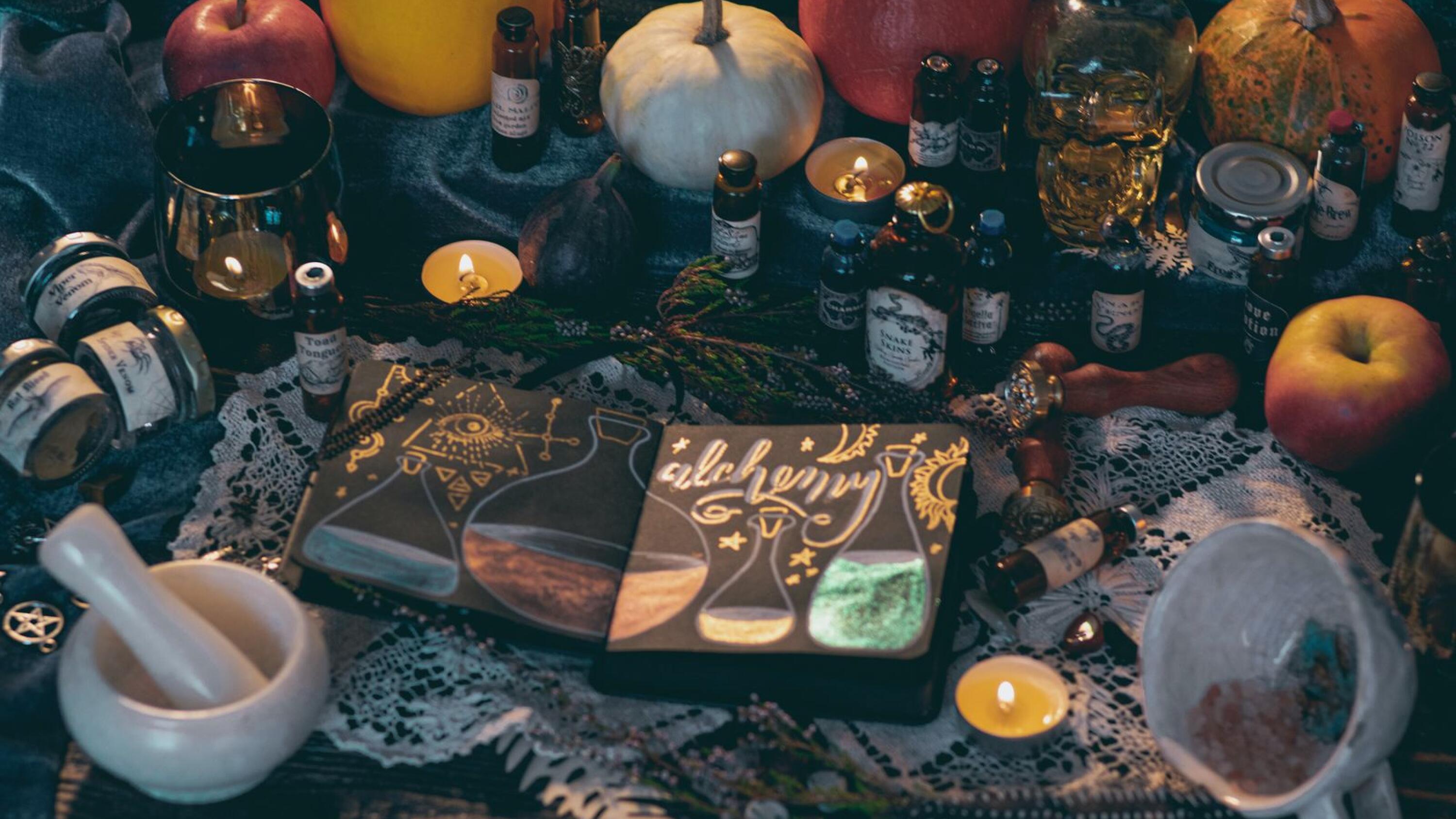 Halloween Trees
If you are searching for a ghoulishly good decorative statement for your living space this Halloween, then a festive tree is the ultimate feature in your home. A Halloween tree is effectively a Christmas tree decorated with spooky ornaments, such as skulls, ghosts, spiders, pumpkins, zombies, witches hats and other novelty Halloween items.
Halloween trees will be a major feature in homes and on social media this season, with searches for the trend rising by 4900% since July on the image-sharing platform, Pinterest.
Bat Wall
For a truly spooky piece of Halloween decor, a bat wall is guaranteed to bring a spooky atmosphere to your home. This statement wall feature is easy to make, and affordable, just create a bat template and cut out the design on black card and glitter paper. Use a ruler to make a fold along the bat to replicate a 3D wing effect.
Once complete, attach them to the wall in a randomly scattered fashion. For more definition, you can create the bats in multiple sizes, which will achieve a more dimensional effect, while still being simple to create.
Spooky Shelfie
Another Halloween home decor trend that's gaining a lot of popularity is the 'spooky shelfie'. If you follow home interior social media accounts, you will be familiar with the shelfie trend, which is when you capture staged photos of your shelves stacked with beauty products, books and knick-knacks. This hot trend is becoming the main feature on interior posts this Halloween.
Consider trawling online for vintage Halloween decor you can display. You can add pastel pumpkins, skeletons, and knick-knacks for a modern retro look. When it comes to shelfies, there is no right or wrong way of doing things, just try to coordinate the shelves and the decor you place with the furniture in your room.
Black Pumpkin
Pumpkins are perhaps the most staple item of Halloween decorations, but the famous squash has undergone a punk makeover that will suit even the most simplistic interiors. This year is the year of black pumpkins, the chic response of the traditional staple is rustic, modern and will be the perfect festive feature in every style of home.
Simply pair a few different sized pumpkins with subdued, natural colours to make your ordinary decor take on a whole new effect. These classy toned-down pumpkins are a Halloween trend we're certainly on board with.
Simply pair a few different sized pumpkins with subdued, natural colours to make your ordinary decor take on a whole new effect. These classy toned-down pumpkins are a Halloween trend we're certainly on board with.